Check out this book review of Origin by Dan Brown as featured in this post from Michael Turashoff's blog.
Michael D. Turashoff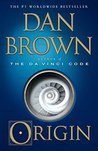 Origin by Dan Brown
My rating: 4 of 5 stars
I am now finally convinced there can only be one Da Vinci Code. In my opinion, the last few books after his masterpiece and my favorite book have been slowly sinking lower. This book didn't have all the clues to lead on a scavenger hunt through the city to find the final clue and save the day.
Another pet peeve of mine, why doesn't Robert Langdon ever get the girl? I don't feel like I'm giving anything away here because all of Brown's books are the same (at least since the Da Vinci Code).
This was a good read and interesting. However, it's hard to come up with another Da Vinci Code and once you have written a masterpiece what do you follow up with? I will recommend this book even though I was split between giving it a 3…
View original post 8 more words